A little birdie (ok Twitter) told me that today is National "De-Lurking" day.

What does that mean?

If you read my blog and have never done so before, it's time to reveal yourself!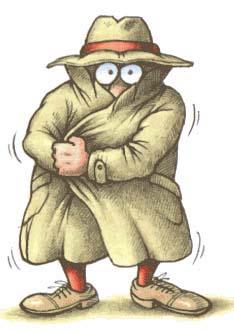 OK, here's the thing. I do not need to see any naked pictures. It's actually way easier than that!

Just take a second to leave a comment and introduce yourself!

Some of the greatest friends I've met, I have yet to meet in real life. They're people I've met through this wonderful world called the Blogosphere (Bloggeritaville, Bloggywood), and people with whom I often chat more frequently than my real life friends!

On the flip side, I've actually had the chance to meet up with some of my bloggy friends and they are even more amazing in real life!

If you're reading my blog - thank you. You rock!

But if you're not commenting, I don't know you're there, and you just might be one of my long-lost BFFs! We might be missing out on some of the greatest bonding moments ever!

I love writing and being able to keep a digital record that someday my family can look back on and laugh at until we cry.

And if I can make you laugh a little along the way, well that's just the icing on the cupcake.

So now, I beg of you . . . de-lurk!!! I can't wait to meet you!